Local Date & Time in Lauru Island
Mark 9: 38 - 40 (NKJV)
9:38 Now John answered Him, saying, "Teacher, we saw someone who does not follow us casting out demons in Your name, and we forbade him because he does not follow us".
9:39 But Jesus said, "Do not forbid him, for no one who works a miracle in My name can soon afterward speak evil of me.
9:40 For he who is not against us is on our side."

Welcome to Lauru Supporting Ministry ...
Lauru Supporting Ministry All rights reserved
Website design: www.Lirola.com.au
NEED DETERMINES OUR NEIGBOUR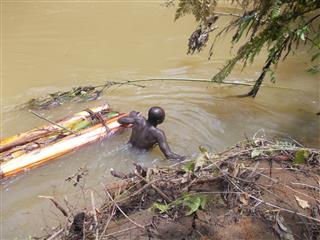 Transport system:
- An Oliveti villager uses a floater (banana trunks tied together with bush vine) as a transport system to ferry supplies to/from Oliveti village, Lauru Island, Solomon Islands.
UNITY OF MINISTRIES IN MISSION
Luke 10: 33 - 37 (NKJV)
33 But a Samaritan, as he traveled, came where the man was; and when he saw him, he took pity on him.
34 He went to him and bandaged his wounds, pouring on oil and wine. Then he put the man on his own donkey, brought him to an inn and took care of him.
35 The next day he took out two denarii and gave them to the innkeeper. 'Look after him,' he said, 'and when I return, I will reimburse you for any extra expense you may have.'
36 "Which of these three do you think was a neighbor to the man who fell into the hands of robbers?"
37 The expert in the law replied, "The one who had mercy on him." Jesus told him, "Go and do likewise."